Vereeniging Fibre Internet Solutions.
Vereeniging Fibre Internet connectivity offers significant reliability advantages over copper Internet connectivity as a result the fibre is much stronger than copper. Fiber-optic Internet is not susceptible to inclement weather conditions, which can damage or stall data transmission via copper cabling.
Vereeniging Fibre Internet to Prem provides a fibre optic connection all the way from the telephone exchange to your premises. Whereas traditional Fibre Broadband or Fibre to Cabinet is a Fibre connection to your local on-street cabinet, then a Copper connection from the cabinet to your premises. Fibre to Prem's 100% Vereeniging Fibre Internet connection offers lightning speeds and improves the performance of your internet connection.[/fusion_text]
Advantages of Fibre Internet.
No Data Bottlenecks
As your business relies on the Internet for more and more of your ongoing operations, you're essentially sending and receiving more and more data around the world. As such, you want to make sure that you have the fastest connection possible, before the bottlenecks are perceptible.
So in-turn, having multiple people using the same amount of data and your connection trying to push through the data, you no longer slows your network down to a stand still.
Business Fibre compared to your conventional copper connection allows more multiple concurrent data transfer.
Minimal Latency
Vereeniging Fibre Internet provides you with faster cloud access than any other type of connection. Your upload and download speeds will be much faster because of fibre's symmetric speeds, but you'll also have less to worry about latency, and lower latency via fibre means that is sent that quicker and more reliably over the network.
Higher Reliability
It's difficult to imagine business today that doesn't need Internet services to be as reliable as possible. Due to the way fibre lines and switches work means that uptime is nearly constant. Fibre is independent of services delivered over the network based on the copper-based technology that you are likely used to. Simply put, glass is more reliable as a data conduit than copper, which means that fiber is at far less of a risk of intermittent drops and downtime than services delivered by network companies. Vereeniging Fibre Internet provides extremely reliable data transfer. It's completely immune to many environmental factors that affect copper cable. The core is made of glass, which is an insulator, so no electric current can flow through. It's immune to electromagnetic interference and radio-frequency interference (EMI/RFI) and more. You can run fiber cable next to industrial equipment without worry. Business Fiber Internet is also less susceptible to temperature fluctuations than copper and can be submerged in water.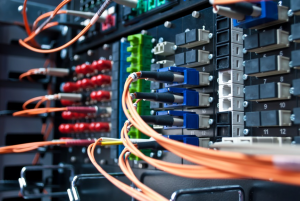 The Future of  Vereeniging Fibre Internet connection.
Todays and future communication technology demands fast, efficient
and safe performance in the data communication process.
Large and complex databases all interconnected must be able to
receive and transmit data without outside interferences. As a result CONEC
manufactures an extensive business fiber optic connector product line.
Fibre Solution
Let us provide you with the connection that keeps you connected.
Experience the best connection with Vereeniging Fibre Internet today. Join us in the continuously advancing and evolving technology of the world, make things better, faster, with the right connection for you or your business today!
We provide not only the Vereeniging, Vanderbijlpark, Meyerton and Vaal areas with affordable fibre internet, but also in Gauteng areas.
While you wait for your fibre to be installed, we'll provide you with a temporary LTE or Wireless Internet connection. Thus making sure you don't experience any downtime.
In conclusion, Let us accelerate the your Internet and give you the freedom to enjoy uninterrupted, unrestricted broadband that keeps everyone connected.
Choosing Vereeniging Fibre Optics.
Only you know what is truly best for your business, but there are some compellingly reasons to consider switching to fibre. If you'd like any further help making the decision, please feel free to give us a call and one of our consultants will be more than willing to get you started on the right package for you.
Business Fibre is faster.
Consequently Business Fibre comes with speeds up to 100Gbps. Employees can send emails faster, send files faster – things can just get done a lot faster, saving time and money for the company. A slow connection also makes an impact externally. Amazon estimates that just a one second slowdown on a page load could cost the company $1.6 billion in sales each year. Although most companies aren't the size of Amazon, slowdown affects any business. Lag time on web pages, slow response times or incomplete transactions will frustrate customers and can result in lost business.
Busniess Fibre is scalable.
Not everyone needs 1Gbps of Internet today. 50Mbps or 100Mbps may work just fine for most businesses. Especially relevant, Internet service provided over fibre can be easily adjusted to accommodate growth needs without additional hardware.
Busniess Fibre is more secure and more available.
A Fiber in Vereeniging line is dedicated, which means the service is much more secure, with less opportunity for interference. With a shared connection like cable modems and 4G services, the availability of service depends on the bandwidth usage of others.
Busniess Fibre is cost-effective.
Long term cost over time is minimized although the switch to fibre optics requires an up-front investment. The increased speed alone ensures increased productivity and efficiency in the workplace. Fibre also comes with far less maintenance than other broadband platforms. Once fiber is installed, upgrades are automatic because there's no need to switch out hardware or add additional equipment.